Tip 1: Keep It Simple!
The kitchen pictured below looks amazing and I know the homeowners love it. However how much did it cost? How could they have saved money on this beautiful design?
First off, look closely and you will see that the customer picked an expensive edge profile. A square polished or eased edge profile isn't considered an upgrade at Latitude whereas the edge profile in the picture costs $45 per linear ft. If you have 30 feet of edge, that beautiful scuplted edge profile just added $$1,350 to the cost of your counter top.
Don't get me wrong, if you like the edge profile and you can afford it, go for it. I did and I love how it looks in our kitchen. However, if you are looking to save money, then stick to a square polished or beveled edge.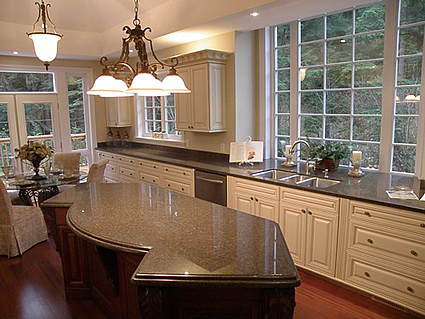 Tip 2: Size and Shape Does Matter!
Different materials come in different sizes. Some products are only available in 120" X 56" whereas other products are available in "Jumbo" slabs 130" X 63".
When we cut your counter top, we lay the counter top pieces out to get the best yield from the slabs. If you picked a directional granite (a granite colour with lots of movement and veins) then we need to try and book match your counter top wherever two pieces meet. This can lead to a lot of waste which you will be paying for.
That beautiful arc on the island in the kitchen above looks great but is expensive to fabricate and also creates additional waste.
If you have a large island or want fewer seams, then an extra man charge to install that large heavy piece in your home. Extra man charges start at $200 and up depending upon the installation.
Your counter top is priced by the square foot. If you stick to rectangular pieces as much as possible, then you will save material and money. If you have the budget and you want the look of flowing curved lines, then definitely do it. We can create any curve you want.
Tip 3: Avoid Exotic Granite and Marble
Now this is a really tough piece of advice for a counter top fabricator to give you. Why? Because we make so much money on these counter tops! Boy oh boy, our accountant just loves it when you buy exotic granites and marbles.
Exotic granite and marble are like a piece of art. Exotic granite is truely a work of nature at its finest! No man made product can come even close to matching the work of mother nature.
However, fabricating these materials is difficult. They are usually soft and brittle. Exotic granite counter tops can easily break in the manufacturing process or in installation. Every manufacturer in the world has a whole yard full of beautiful pieces that broke. Now that's great if you are after a remnant piece. (My wife found a beautiful piece of Cosmos 9' long hidden amongst our remnant pieces. It now sits in our ensuite bathroom and we love it.) However, it is unlikely that you're going to find enough material for a standard kitchen.
Because of manufacturing and installation problems, every fabricator increases their profit margins and their waste factors when calculating the price of your counter top when you select an exotic or difficult to work with material. In fact, we won't even manufacture some extremely high end products. Instead, we will refer you to an artisan who specializes in fabricating exotic granite or marble counter tops.
If you are on a tight budget, then these high end materials aren't for you.
There it is! My top three tips for saving money on granite counter tops!
If you are looking for more information on planning and designing you kitchen, I suggest you visit Kitchen Design Tips for some great planning advice and more on Granite Counter Top Pricing or you can visit one of our dealers located across Ontario.