This is by far the most frequently asked question. It is also the most difficult question to answer due to the variety of kitchens, styles, options and materials. But I really wanted to give one straight forward number that most people can use to estimate the cost of their granite or quartz countertop.
To calculate the average square foot price, I looked back over the past year and divided our sales by the total square footage we sold to determine the average square foot price. The average retail price I came up with was $80 per square foot of counter top. Since we are in Canada, I thought I should also calculate the price in meters, which is $861.12 per sq. meter (one meter is 10.764 sq. feet).
What do I get for $80 per square foot?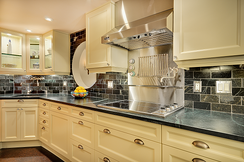 What does the average retail price of $80 per square foot of countertop include? This price includes all the standard stuff you need in your typical granite countertop kitchen installation: granite or quartz material, templating, installation, travel (if required), sink cut outs, edging, plywood (if required) stove cutouts, fridge cutout and faucet holes.
How come my Uncle Vinney only paid $45 per square foot for his granite countertop from you guys?
Well, we liked your Uncle Vinney better than you…. Just kidding!
Now I don't want to get a million comments about this blog, so I will defend myself by quoting my old statistics professor from my undergraduate days. He was a retired British Royal Air Force Colonel and he liked to bark in a typical British military style, "There are Lies! ... Damn Lies!! And THEN THERE ARE STATISTICS!!!"
What my old prof meant by that quote was that statistics is bit of an art and a science. You can make numbers say almost anything you want to if you try and are blessed or cursed with the knowledge of statistics. The $80 per square foot of countertop price I'm using here is an average price. Some granite countertops sold for more and some for less.
If you buy a remnant granite countertop directly from our factory you will pay less. If you pick a beautiful Louise Blue granite, you will pay over $200 per square foot. In the end, the price really comes down to what material and edge profiles you choose as well as the features and options you want as well.
All I'm saying is that each year Latitude makes over 4,000 countertops and on average our customers pay $80 per square foot.
One last comment about countertop prices
When you are shopping for countertops you shouldn't just focus on price. Price is only one part of the total value proposition. Even Walmart doesn't compete only on price. Walmart also includes selection and availability in its value proposition.
When it comes to countertops here are a few additional points to consider in the total value proposition:
How long will it take to have your countertop installed?

Does the countertop company offer additional services i.e. countertop removal

Can the countertop company template without you removing your old countertop first?

What does the countertop guarantee and for how long?

Can I pick my granite slab or does the countertop company pick it for me?

How long will the company hold the granite slab I picked?

What have other customers said about the company?

How long have they been in business? The company guarantee isn't worth anything if the company isn't around next year.

Do I trust the company to make it right?
The Easy Way to Estimate Your Granite Countertop
If you are in the middle of budgeting your kitchen renovation or estimating the granite countertop for your new home, all you have to do is calculate the square footage of kitchen countertop and multiply it times $80 and that is approximately what you will pay for your granite or quartz countertop. Most kitchens today are around 35 square feet, so you can expect to pay around $2,800 plus taxes for your countertop. Depending on your options and the material you chose, you may pay less or a lot more .... and remember what my prof said about statistics.
Bob Gilson