Fireplaces are usually the focal point of the room so it is important to give it the attention it needs when renovating a room. Granite and marble are very good choices for the fireplace hearth, surround and mantel. Granite and marble are heat resistant and durable. Every piece of granite is beautifully different and unique, ensuring that you are the sole owner of that particular look. Another trend is to create a fireplace face with granite or marble that goes from the floor to the ceiling, but it is important to have the space for that look. Whether you want the floor to ceiling look or a granite mantel, it is vital to have proper support for the stone. The wall behind the stone must be braced or reinforced before the stone can be installed. A good contractor should be able to help with that.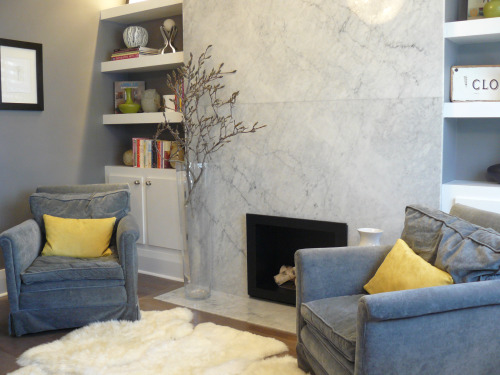 How do I choose a colour?
Pick a colour that goes with the overall colour scheme of the space. If you want choose a stone with little patterning, accent the fireplace with decorative items on the mantel. If the colouring and the patterning of the stone is busy or loud, it will be most beautiful on its own or with a couple of accents in one colour, you don't want it to be cluttered. Some people prefer a more neutral colour and will use accents to change the look and feel of the room. Paint and accents are inexpensive ways to change the look and feel of a room. Keep in mind that when choosing a very colourful granite, the room will always have to match the fireplace, unless you want to change the granite to match the changing look of your room.
Where do I get a granite or marble fireplace?
You can buy them already made but it is a good idea to buy is custom made by a reputable stone fabricator. LATITUDE has been in this industry for over 25 years. We have fabricated 100's of mantels, surrounds and hearths, and more recently the floor to ceiling fireplace face. Our templators are armed with plotters that will create a digital template of your fireplace. Fabrication is extremely precise with our CNC machines and laser guided saws. Come see us at 66 LePage Court, Toronto, ON 416 638 8586